NEWS ALERT! Section 179 is $500,000 for 2016!
By Vanessa Del Gallo
8th January 2016
The 'Section 179 Deduction' Helps Your Business!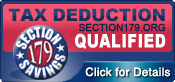 http://www.Section179.Org!"
Section 179 Deduction: Until further notice, Section 179 is at the $500,000 level for investments like THERMOFORMING MACHINES placed into service after Jan. 1, 2016 through Dec. 31, 2016!
50% Bonus Depreciation will be extended through 2019. Businesses of all sizes will be able to depreciate 50 percent of the cost of equipment acquired and put in service during 2015, 2016 and 2017. Then bonus depreciation will phase down to 40 percent in 2018 and 30 percent in 2019.
Section 179 is a tax code created to help businesses – By allowing businesses to deduct the full amount of the purchase price of equipment (up to certain limits), Section 179 is a fantastic incentive for businesses to purchase or lease equipment this year.
Use this Section 179 Calculator to see how much the Section 179 tax deduction can save your company.
The various Stimulus Acts over the past few years have included special provisions for Section 179 and Bonus Depreciation, and greatly increased the limits on how much businesses can deduct. There is simply no better time than now to take advantage of Section 179 and Bonus Depreciation!
For more information, please visit the Section 179 website.
DISCLAIMER: MAAC Machinery is not licensed to provide accounting or legal advice. Please consult your own CPA or Counsel for any accounting or legal advice and as to how this new bill can help your company.